Lyndon B. Johnson was president, the Beach Boys released their best-selling album and Carroll Shelby was focused on sending Ferrari home from Le Mans without a trophy. It was the summer of 1966...

Meanwhile, after two years of selling the Mustang-based G.T. 350 Fastback, Shelby American unveiled their expansion plan for the upcoming 1967 model year: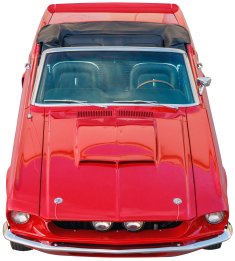 1) Augment the car's body with fiberglass components to give the Shelby G.T. a more aggressive and distinct look from the Mustang upon which it was based;

2) Offer the potent big block 428 cu.in. FE-series "Ford Cobra" engine in addition to the hi-po 289; and

3) In addition to the proven Fastback, introduce coupe and convertible body styles mid-model year (just in time for Spring).
This plan would have allowed customers to choose from six Shelby G.T. models and was put into motion on August 8th, 1966, when Shelby American began placing orders with Ford Motor Company.
In the first three days of placing pre-production orders, a total of 111 cars were requisitioned -- there was one coupe and one convertible, the rest were fastbacks.
Unfortunately when the first batch of cars began to arrive at the Shelby production facility (late September / early October), the operation was plagued with fiberglass fitment, supply chain and financial problems. These "launch problems" prevented Shelby from being able to build cars so Ford stepped in and took control over the ordering and engineering departments. Ford turned to A.O. Smith Plastics in Ionia, MI to solve the fiberglass-related issues.
Throughout October, Shelby American managed to complete approximately a hundred cars -- all were G.T. 350 cars. In November, the first big block G.T. 500 cars, including the coupe, convertible and fastback were completed by Ford's San Jose assembly plant. This trio became the first 428-equipped production Mustangs built by Ford and subsequently the first big block G.T. cars delivered to, completed by and serialized (0100, 0131 and 0139) by Shelby American.
The convertible was designated a "company car," and received the same livery as all '67 G.T. cars (fiberglass hood, one-piece front-end, one-piece grille, inboard high-beams, exhaust tips, emblems & stripes). According to Carroll Shelby, he claimed the first convertible as his own "personal driver." Subsequent interviews with other former employees indicate "the convertible was regularly being driven by one of the gals who worked in the upstairs executive offices at the L.A. facility."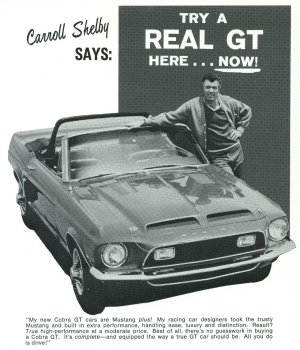 Quality issues, primarily caused by the hastily designed fiberglass modifications, continued to plaque the Shelby operation. This resulted in the 1967½ convertibles being pushed back an additional six months. Instead of offering mid-year '67 convertibles, the drop-top would be a 1968 model.
Part of Ford's intervention was to fix the problems caused with Shelby's '67 styling upgrades. With FoMoCo's updated design, A.O. Smith fabricated and shipped two sets of redesigned hoods, front-ends and tail light panels to California. In April 1967, Shelby American was tasked with installing the components on two cars, a fastback and to a convertible, so that the cars could be used "photographic purposes" at various Southern California locations.
In May 1967, six months after Ford first intervened, the decision was made to terminate the Shelby American operation. In August 1967 the Shelby American Program assets, including this convertible, were shipped to Ford's headquarters in Dearborn, MI.
In October 1967, the photos previously taken of the disguised convertible and fastback made their way to printed brochures, magazine ads and dealer literature that was used for the promotion of the upcoming 1968 model year Shelby Cobra G.T. cars.
Eventually, Ford sold the convertible through it's corporate "B-Lot," thus fulfilling the convertible's destiny of being offered to an enthusiastic member of the public -- just as it was originally intended.
As history has now revealed, Shelby's aggressive plan to grow from a single G.T. 350 model in 1966 to six models in 1967, proved to be too much for the small California company...
After several years of researching and documenting this convertible's special history, Jason Billups was entrusted to perform the Concours-correct restoration with the priceless technical contributions from many experts, enthusiasts and past employees in the Shelby community.
Today, the convertible has been restored to its "earliest point as a Shelby" and wears 1967 Shelby styling and upgrades, just as she did in December of 1966 when the legendary Carroll Shelby first enjoyed this big-block drop-top.