Document:

North American Program of Racing
and Related Activities for the Model Years 1968-1970.

Source:
Ford Motor Company
Date:
July 12, 1967
These pages are from a 94-page presentation. They teach us that the Shelby Program was not a money-making venture the way it was being run.
When analyzed alongside the DSO database and December 8, 1967 letter from A.O. Smith to Ford Motor Company, this document becomes a key component in answering the question of "why only a single convertible was built." Shelby's plan to offer six different models in 1967 was devastated by the 'launch problems' and reduced ability to produce cars. The operation hemorrhaged money up until Ford made the decision to terminate the program in May 1967.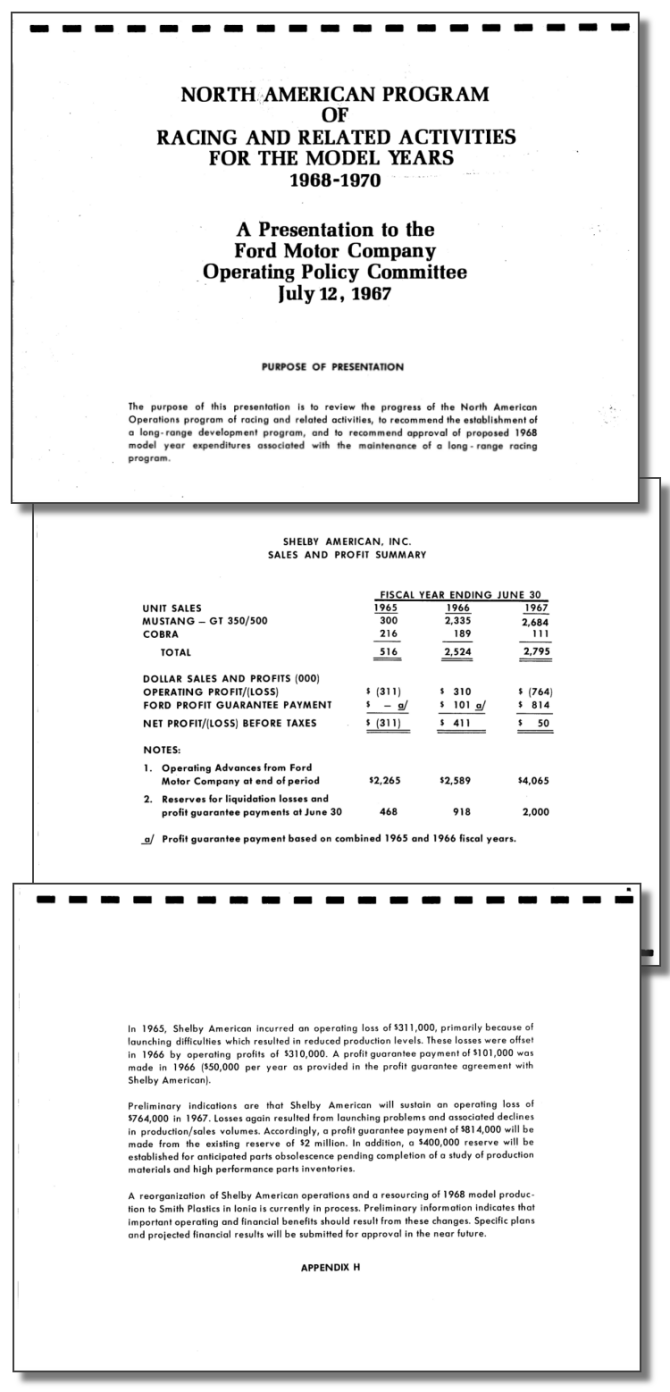 In larger type for older eyes:
In 1965, Shelby American incurred an operating loss of $311,000, primarily because of launching difficulties which resulted in reduced production levels. These losses were offset in 1966 by operating profits of $310,000. A profit guarantee payments of $101,000 was made in 1966 ($50,000 per year as provided in the profit guarantee agreement with Shelby American).
Preliminary indications are that Shelby American will sustain an operating loss of $764,000 in 1967. Losses again resulted from launching problems and associated declines in production/sales volumes. Accordingly, a profit payment of $814,000 will be made from the existing reserve of $2 million. In addition, a $400,000 reserve will be established for anticipated parts obsolescence pending completion of a study of production materials and high performance parts inventories.
A reorganization of Shelby American operations and a resourcing of 1968 model production to [A.O.] Smith Plastics in Ionia is currently in process. Preliminary information indicates that important operating and financial benefits should result from these changes. Specific plans are projected financial results will be submitted for approval in the near future.
---
Notes:
A quick drill-down into the numbers:

Year Cars Built Profit/(Loss) P/(L) per car
1965 500 ($311,000) ($622)
1966 2,335 $310,000 $133
1967 2,684 ($764,000) ($285)
Adjusted for inflation, the $764,000 loss suffered by Shelby in 1967 would be roughly equivalent to $5,522,484 in 2016.

How coincidental is is that the profit in 1966 very conveniently offsets the prior year's losses? There is no doubt that the 1,000-car Hertz deal in 1966, is what kept the Shelby Program alive for another year. The $600,000 swing in just 12 months time is also the underlying reason that Shelby felt it safe to expand from a single model car in 1965/1966 to six different model cars in 1967.