It was Shelby American's plan to introduce a convertible body style G.T. as a 1967-˝ model.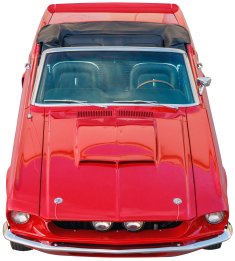 Unfortunately, production bottlenecks and financial problems overwhelmed the small California company right from the start. Ford Motor Company made the difficult decision to terminate the Shelby program right around the mid-year point. This unfortunate twist of fate resulted in the 'first' 1967 G.T. Convertible built (67413C9A00139) becoming the 'only' G.T. 500 Convertible ever built by Shelby American.
The significance of #0139 extends well-beyond the Shelby marque; prior to wearing a Shelby American VIN, this convertible was first born on Ford's San Jose Mustang assembly line. All 1967 Mustangs ordered by Shelby American as G.T. 500s were equipped with the potent 8-cylinder "Ford Cobra" 428 cu.in. (7.0L) engine topped with dual 4BBL carburetors and this G.T. 500 convertible was no different...
That makes #0139 the only multi-carbureted Mustang convertible ever built -- not just for 1967, but throughout the entire history of Ford's legendary pony car!