| | |
| --- | --- |
| Document: | Deluxe Report |
| Source: | Marti Auto Works |
| Date: | 2010 |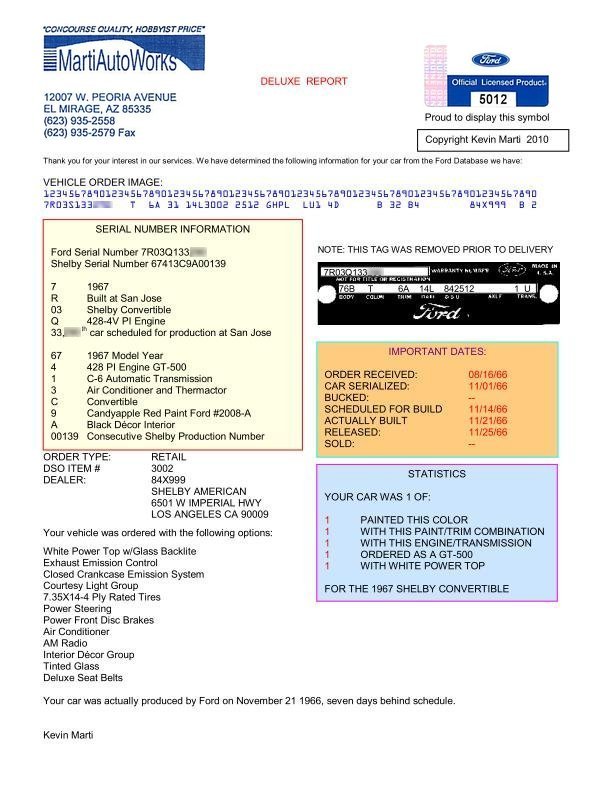 To order a Deluxe Report for your classic Ford, Lincoln, Mercury or Shelby vehicle, please visit MartiAuto.com
It is interesting to look at the differences that we find between the information obtained from the Marti Report and that of the original typed Ford Special Order Form (DSO).
Examples of the differences between the DSO and the Marti Report:
Order Date: The actual order for this car (DSO 2512) was typed on August 9, 1966, approved on August 11, and stamped "RECEIVED" on August 12. The Order Received date in the Ford record is August 16, 1966. My suspicion is that the Marti Report's "Order Received" date is actually the date the order was keyed into the Ford computer system -- which is later than any of the three dates found on the Domestic Special Order (DSO) Form.
District Code: The typed DSO indicates district 71 (Los Angeles). The Ford record indicates 84 ( Home Office Reserve). Research of the 67 Shelby DSOs has verified it was changed when Ray Geddes displaced G.W. "Jerry" Nuznoff in October 1966. The orders began to use district 84 when Geddes began placing the orders, and changed to District 89 circa May 1, 1967 when we believe Ford formally acquired SAI. More on this topic can be found at the SRG.
Wheels: The DSO shows the car was ordered with "Customer Supplied" wheels and "E-70-15" tires. The Marti Report relies on the Vehicle Order Image which has the default value of 1 in field #48 as 7.35x14 tires. The special itemization on the DSO would of course override the standard value, and this is something that the VOI has no way of accommodating.
Rear Axle: The DSO indicates the car was ordered with a regular 3.25:1 axle. The Marti report indicates a an axle code of "1" which decodes to a regular 3.00:1. Same explanation as above that the DSO itemization would override the Order Image.
Engine Code: The Ford Vehicle Order Image image shows the VIN having an "S" which would normally denote a 390 cu.in engine, however, the DSO shows the car was ordered with a 428 2x4bbl. The Ford invoice also confirms the car was equipped with the "428 Inter Engine" that was originally ordered (using line item wholesale costs: $81.00 for the base '289 2V 8Cly Engine' plus $114.02 upgrade for the '390 4V Thunderbird Special 8' $114.02 plus the $105.00 upgrade for the '428 Inter Engine'). More on this topic can be found at the SRG.