| | |
| --- | --- |
| Document: | Ionia Move Notes - Jobs Yet to be Completed in California |
| Source: | Shelby American, Inc. |
| Date: | circa July 1967 |
The earliest date found on the document is August 8th, 1967, and therefore believe this document to have been authored in late July. Item 4 relates primarily to the GT500 Convertible (0139) advertising car. Item 5 relates to the GT500 Coupe (0131) Items 4 & 7B relate to the GT500 Fastback (0463) advertising car.
4. Updating of Convertible & Fastback '68 Proto's
Awaiting seats & inside trim for installation in both (VanAkin - Hansen)

Awaiting prototype convertible roll bar (due August 14)

Awaiting correct Gas tank filler metal decal for installation on gas tank filler & wheel covers (Nuznoff)

Awaiting fender-side Ornaments & glove box ornaments (LeVoie)

Top boot to be modified locally by trim shop (due August 10)

Inside trim panels to be vinyl covered locally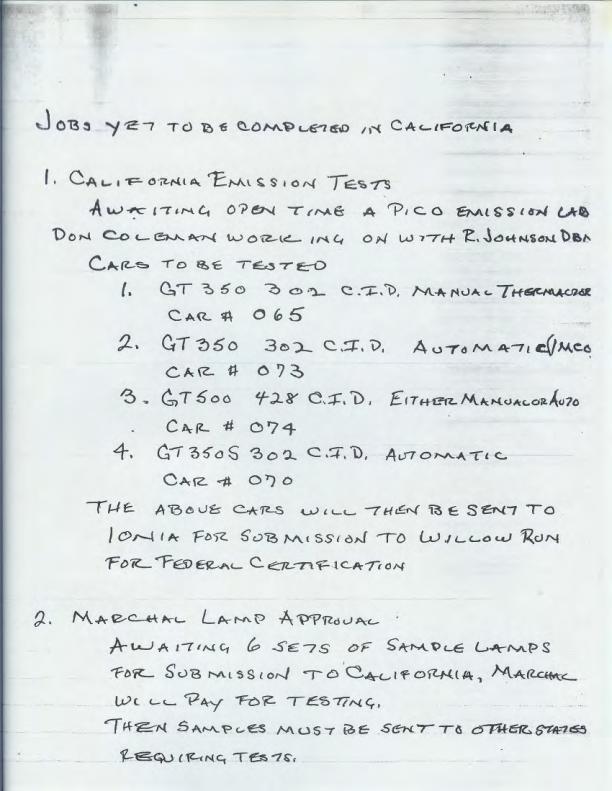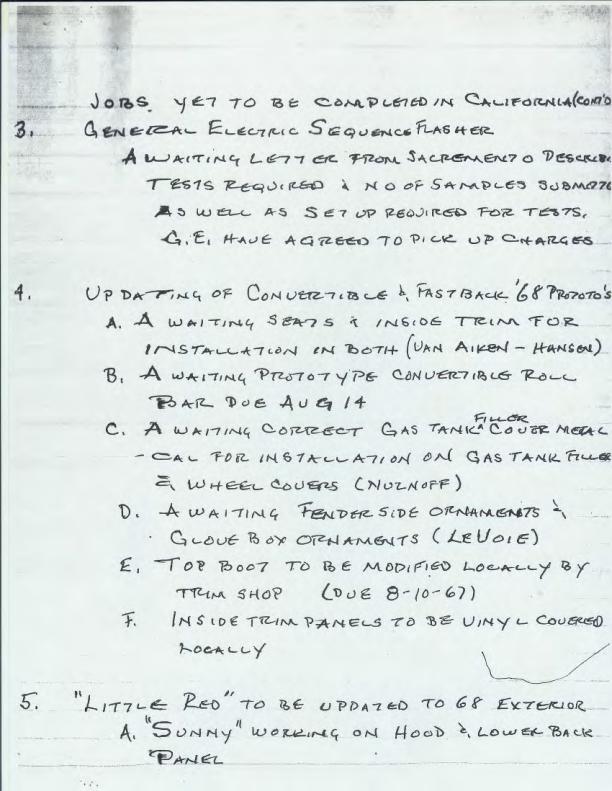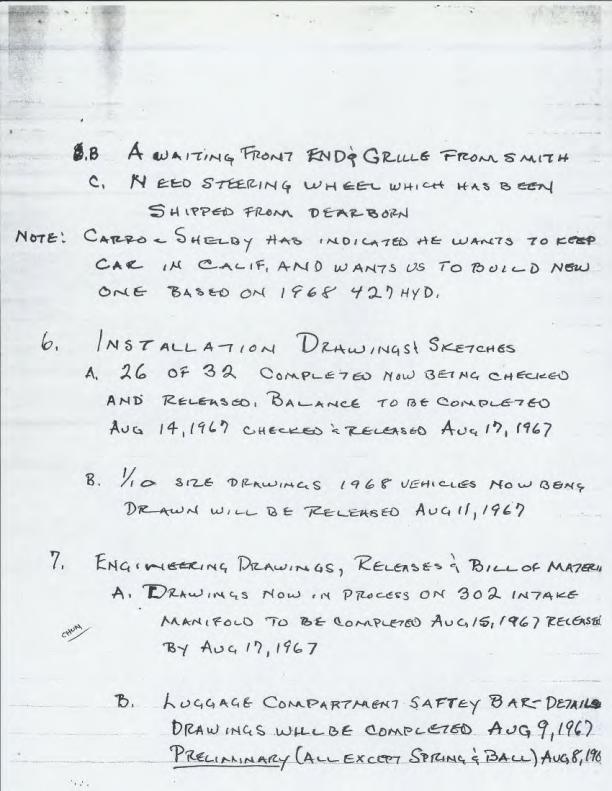 Analysis:
"Nuznoff" is a reference to G. W. "Gerry" Nuznoff, the purchasing manager at Shelby. "Sunny" (spelled incorrectly) is a reference to Sonny Fee, the manager of the paint shop at Shelby. "LeVoie" (spelled incorrectly) is a reference to P. LaVoie. "Van Aiken" (spelled incorrectly) is a reference to Ken VanAkin, the Senior Buyer in the Purchasing Department at Ford Motor Company.
The "convertible and fastback '68 protos," is a reference to the two '67 model year cars that were updated/disguised for advertising purposes (a/k/a/ "68 photographic cars"). Convertible VIN 0139, Fastback VIN 0463. Their California inventory numbers are 062 and 064/074, respectively.
In this document, "Little Red" is referenced only by name and not by its VIN 0131 or inventory number 061. "Little Red" was Fred Goodell's nickname for the one-off Shelby G.T. 500 coupe, which leads us to believe that he may have been the author of these handwritten pages.
Note: inventory numbers are not the same as serial numbers (VINs). This page explains the numbers and includes a table that allows us to link inventory numbers, serial numbers, and engineering numbers to the correct vehicles.